My favorite song
Recognize your own taste patterns with YouTube
My favorite song, favorite band, favorite video – almost everything can be found on YouTube, whatever a music lover's heart desires. And even more: For those who want to be active themselves, there's the possiblity of creating one's own channel on YouTube and presenting one's favorite music to other users.
In connection with creating their own YouTube channel, children and teens are stimulated to think about their own taste in music and to reflect on music tastes in general. They discover what roles identification and distinction play in taste and learn to develop a tolerance for other musical preferences. They also deal with aspects, such as style, genre and categorization of music, plus they'll practice writing descriptions and commenting on music videos.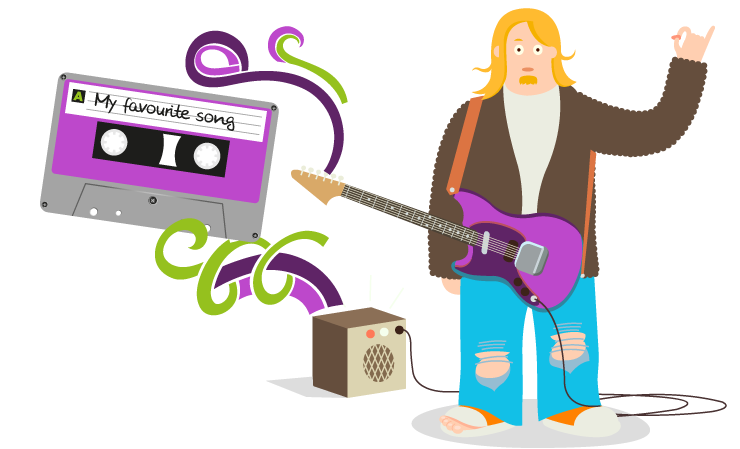 Project procedure
The project "My favorite song" is well suited as an introduction to a new learning group. With this opener that's based on everyday life, you'll get an overview of your children's and teens' musical passions and can see what sort of and to what degree they already possess digital and musical skills, plus you'll see which competencies can be fostered.
The children and teens start out by researching background information on the Internet about their own favorite band and then they introduce a song of their favorite bands to each other. Together as a group, the various music styles are discussed and categorized, so that the collected songs can be mapped to their respective styles.
Split into groups, the children and teens then have a look at the video platform YouTube with the question in mind: What should we be aware of when setting up our own YouTube channel? In the last step, a YouTube channel will be set up for the group, and all the previously discussed songs will be loaded into the playlist.
Phase 1

Phase 2

Phase 3

Phase 4
To kick the lesson off, children and teens research their favorite bands online.
They collect the background information about their favorite band and pick a song/video to present.
Subsequently, the results will be presented separately.
Recording results: Word document
Social form: individual work
Record all the bands in a mind map on the board.
Discuss with the whole group which kinds of music styles there are.
Discuss with your children and teens which songs could be associated with which music styles. Categorize them in the mind map.
Recording results: exercise with mind mapping tool, board
Social form: group discussion
Together the students look at the YouTube terms of use online in 4 large groups.
They gradually work through the criteria that must be observed when both downloading and uploading videos. They will then also look at the conditions for setting up their own channel.
They record their results in a Word document.
Recording results: Word document
Social form: group work
Together as a learning group, they discuss how their group YouTube channel should be structured and what name to give it.
Then they go a head and set up the YouTube channel.
The next step is for them to link all of their individual videos to the channel. They then pick out tags for their videos and write summaries.
They follow up by thinking about who might be interested in the groupchannel and what other sources they might connect their channel to, so that they get some positive feedback from other users.
Recording results: YouTube
Social form: group discussion
The end of the project is transferable to other subjects, for example, it can be used in English class. In this way, classes could also gain knowledge about the various specific genres, for instance, the children and teens could put together a collection of well-known jazz artists. Another possibility would be to put together a channel of videos from all the children and teens who play music.