Summit for Kids 2016
Reading Time: Minutes
What is data? And what does "personal information" mean? Why should I pay attention to my data? On November 04, 2016 Teachtoday held its "Summit for Kids" in Bonn, this time on data traces and security.
The Summit for Kids sensitized children and young people in action-packed workshops on how to deal responsibly with personal data. Another highlight of the event, moderated by Tim Schreder, were the winners of the international "Media sure! But secure." competition.
And action!
Data and privacy – everyone talks about it, but what is it, really? What can happen with data and what should you watch out for? The young summit participants got on the trail of data and data security in four action- and movement-rich workshops.
They made short videos with their explanation of certain terms directly relating to the summit theme. With tons of fun, they made their point – without actually saying the word. What a challenge! A digital scavenger hunt followed various tracks through the Internet with the question: Who knows answer to the riddle's?
In another workshop, the children got to be data detectives. They interviewed the many adults present at the center, asking questions like: How many passwords does one usually have? The question "How do you pick a strong password?" was the topic of a forth workshop to use their creativity in crafting a photo album.
Prize ceremony
After this workshop phase, the children could enjoy a long awaited moment: the announcement of the winners of the "Media sure! But secure." contest from Teachtoday. The winners were awarded with much applause. Their projects are an incentive for many others to promote safe and competent media use by children in creative ways.
While the event wound down, the children eagerly took the opportunity to snap selfies with moderator Tim Schreder and get autographs. Thanks to the participation of so many curious young people, the Summit for Kids 2016 made media competence a top priority.
Further information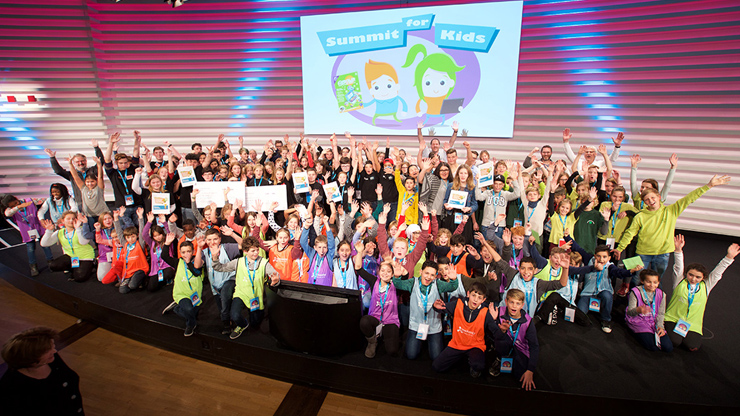 Over 120 children were offered the opportunity at the "Summit for Kids" to strengthen their safe media usage in a playful and exciting way.
Summit for Kids 2017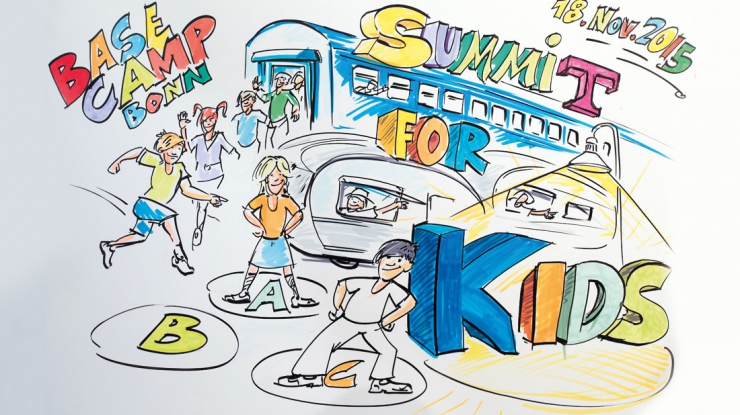 Over 150 children from across Germany traveled to Bonn for the event. Alongside workshops and activities, the highpoint was revealing the winner of the international competition "Media sure! But secure."
Summit for Kids 2015