Safer Internet Day 2016
Reading Time: Minutes
How does one use digital media safely? In Erfurt, Germany, fourth graders got to show how much they know about the digital world.
All around the globe, the 9th of February is a day for initiatives, schools and companies engage for more Internet security. That's why international Safer Internet Day is a very special day for Teachtoday too. This year, the initiative was invited to the University of Erfurt, the capital of Thuringia. Sixty pupils from a Erfurt elementary school took part in the action-packed day. On the occasion., Teachtoday kicked off it's media competition "Media, sure. But secure!"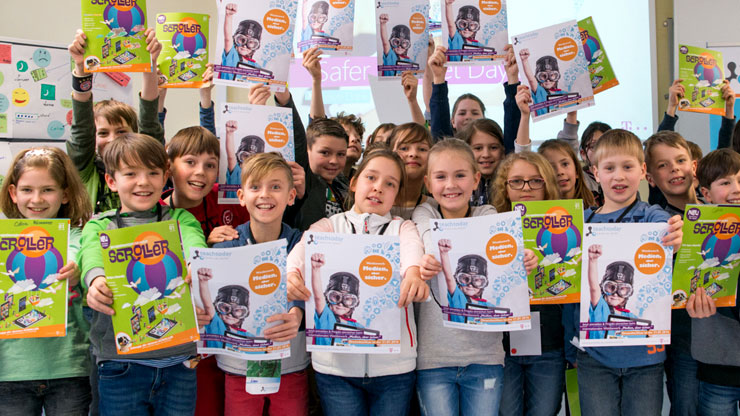 The Teachtoday team had a lot planned – especially for the forth graders. Five stations awaited the school kids that would test their knowledge of digital media and the Internet. Each station dealt with a different aspect of safe media use, and the kids were challenged in multiple ways. The team first welcomed the pupils quickly and then divided them into groups. The groups then proceeded to make their way through the Media Obstacle Course. While one group was exploring their own media competencies with our Media Competency Test, another demonstrated their knowledge about mobile phone use with our Mobile Quiz. The children got to put together an exciting graphic about mobile phones. The graphic's pieces were a puzzle made from mobile parts, related terms and explanations! This taught them more about smartphone functions and the materials that mobiles are made from.

An eager discussion took place at a third station. The topic: privacy online. What are private data anyway? Who should get to know where I live? What information can and should you give out, and what should you keep to yourself? For children, the Internet is much more than a great big playground. It's got its dangerous places too. So these are very important questions indeed. After the discussion they took to their markers, paper, scissors and glue to craft practical tips for themselves and other kids. Many colorful collages were the result, depicting what these nine- and ten-year-olds already new about digital media – and what they still have to learn and work on.

The finale was a kids' panel – where the children discussed all of their new findings and the stations together in a big round. Every comprehension question was met with quick hands up in the air, because this day was full of useful stuff that the kids took to heart. This impressively proved how curious they are and how much fun they have discovering the digital world.
Forther information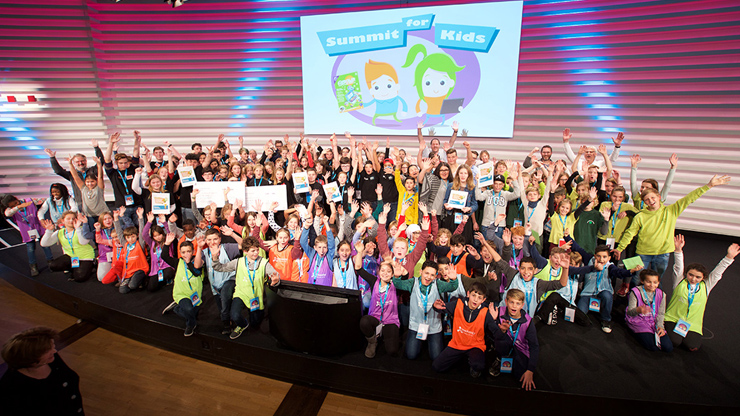 Over 120 children were offered the opportunity at the "Summit for Kids" to strengthen their safe media usage in a playful and exciting way.
Summit for Kids 2017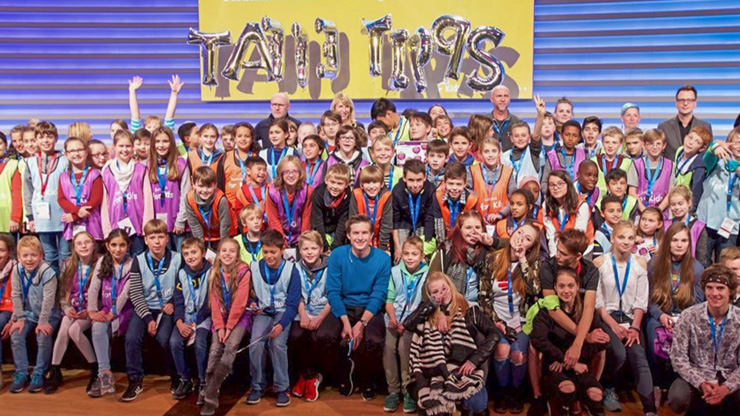 On November 04, 2016 Teachtoday held its "Summit for Kids" in Bonn, this time on data traces and security. Find out more!
Summit for Kids 2016